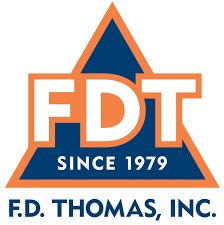 F. D. THOMAS, INC. IS SEEKING QUOTATIONS FROM ALL QUALIFIED DVBE SUBCONTRACTORS AND/OR MATERIAL SUPPLIERS
Agency: Caltrans 03-1H1004
General work description: Clean & paint structural steel on existing bridges.
In Sacramento County In Sacramento At Various Locations / 03-Sac-5,50-22.2/22.9, L0.0/L0.5
Bids Open 07/21/2021 at 2:00 PM
Estimate: $22,300,000
DVBE participation incentive
Please return bids by email to bids@fdthomas.com or fax to 916-922-1511
We are requesting bids for the following trades and/or material suppliers: Lead Compliance Plan, Progress Schedule (Critical Path Method), Construction Area Signs, Traffic Control System, Portable Radar Speed Feedback Sign System, Portable Changeable Message Sign (LS), Job Site Management, Prepare Water Pollution Control Program, Move-In/Move-Out (Temporary Erosion Control), Temporary Hydraulic Mulch (Bonded Fiber Matrix), Temporary Cover, Temporary Check Dam, Temporary Drainage Inlet Protection, Temporary Silt Fence, Temporary Construction Roadway, Asbestos Compliance Plan, Clearing And Grubbing (LS), Mobilization.
F. D. Thomas Inc. is a union signatory contractor. Subcontractors must possess a current contractor's license, insurance coverage and worker's compensation for the entire length of the contract. All subcontractors will be required to sign our standard Subcontract Agreement, 100% payment and performance bonds may be required. Please call if you need assistance in obtaining insurance, bonding, equipment, materials and/or supplies.
F. D. Thomas Inc. intends to work cooperatively with all qualified firms seeking work on this project. We are an equal opportunity employer and will work with any interested subcontractor to identify opportunities to break items into economically feasible packages.
FD Thomas, Inc.
217 Bateman Dr Central Point
OR, 97502
Phone: 916-922-1505 Fax: 916-922-1511
Email: bids@fdthomas.com