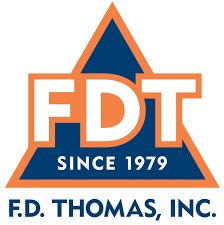 F. D. THOMAS, INC. IS SEEKING QUOTATIONS FROM ALL QUALIFIED SUBCONTRACTORS AND/OR MATERIAL SUPPLIERS:
Project: Cleaning and Rehabilitation of Digesters #4 and #11 at the Fresno/Clovis Regional Wastewater Reclamation Facility
Please return bids by email to bids@fdthomas.com or fax to 916-922-1511 by end of day Friday April 30, 2021
We are requesting bids for the following trades and/or material suppliers for: cleaning, welding, hauling, scaffolding, foam coating.
F. D. Thomas Inc. is a union signatory contractor. Subcontractors must possess a current contractor's license, insurance coverage and worker's compensation for the entire length of the contract. All subcontractors will be required to sign our standard Subcontract Agreement, 100% payment and performance bonds may be required. Please call if you need assistance in obtaining insurance, bonding, equipment, materials and/or supplies.
F. D. Thomas Inc. intends to work cooperatively with all qualified firms seeking work on this project. We are an equal opportunity employer and will work with any interested subcontractor to identify opportunities to break items into economically feasible packages.
Plans and specs are available in our office or at the link below:
https://asrccorp-my.sharepoint.com/:f:/g/personal/libby_mcdowell_fdthomas_com/EhreuhU9Q4ZAhSOdwxfweDkBsOtu2uBIlHPaNqo_A2H84A?e=ZtsNa1

FD Thomas, Inc.
200 Harris Ave.
Sacramento, CA 95838
Phone: 916-922-1505 Fax: 916-922-1511
Email: bids@fdthomas.com
Estimator: Todd Anderson