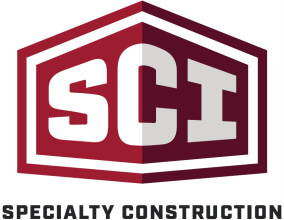 An Equal Opportunity Employer
Is requesting quotations from all qualified DBE Businesses performing commercially useful functions for the following project:
Agency: City of Paso Robles / Client Project No. 11104A10
Project: Salinas River Segment of Recycled Water Distribution System
The Work consists of construction of a segment of 24-inch ductile iron and 26-inch HDPE recycled water piping between the City's Wastewater Treatment Plant and the River Oaks neighborhood using horizontal directional drilling under the Salinas river and open cut construction
Plans & Specs available: https://www.dropbox.com/sh/6f8ioztsy54funy/AABExDrQ0VqwFMtceIaErPika?dl=0
**Addendum 1 & 2 have been issued**
"Please fill out, sign, and return Form 4500-3, Disadvantaged Business Enterprise (DBE) Program DBE Subcontractors Performance Form to SCI by noon, Wednesday, February 1, 2023 via email to sshamblin@specialtyconstruction.com AND tseidelsshamblin@specialtyconstruction.com"
Specialty Construction is requesting quotes from all qualified subcontractors and suppliers including certified DBE Businesses firms for the following items of work, including but not limited to: 24" Class 250 Dip , (Open Cut) , Salinas River Bench Pipe (Open Cut) , Salinas River Crossing (Horizontal Direction Drilling) , 2" Fiber Optic , Conduit , Handhole Per Detail Em900 , Ac Paving (4" Ac Over 8" Ab) , Air & Vacuum Release Valve Per Detail G-8 Modified , 6" Blowoff Assembly Per Detail G-9 Modified , Rw Hydrant Per Detail G-1 Modified, 24" Butterfly Valve Per Detail P026 , Pipe Anchor Per Detail P905 , 2" Pressure Reducing Valve Per P916 , 2" Rw Service Per G-3 Modified , Temporary Excavation Support , Traffic Control , Dust Control And Storm Water Pollution Prevention , Mitigation And Monitoring Plan Requirements , Settlement Monitoring , Subsurface Utility Locate , Long Term Erosion Control , Rock Excavation , Dewatering , Earthquake Insurance , Demobilization (3%)
Specialty Construction is willing to break down quotes into comparable packages as reasonably necessary. SCI will work with interested DBE firms to identify opportunities to break down items into economically feasible packages. Subcontractor/Supplier Requirements: In most cases subcontracts in excess of $50,000 may require 100% performance and payment bonds for the full amount of subcontract price. SCI will pay for bond premiums up to 2%. Subcontractors must be registered with the Department of Industrial Regulations (DIR), possess a current contractor's license, insurance and worker's compensation coverage meeting SCI and Owner's requirements. Subcontractors will also be required to sign the standard SCI Subcontract Agreement or Purchase Order as appropriate. For copies of the insurance requirements, Subcontract Agreement or Purchase Order, please contact Sheri Shamblin. Include with your bid the Time required for Performance of your work and any Delivery Schedules so that we can establish a Flexible Timeframe for your work, however, contract time availability is dictated by the Contract Documents.
Specialty Construction, Inc.
License No. 619361
645 Clarion Ct., San Luis Obispo, CA 93401
Phone: 805-543-1706 Fax: 805-543-1722
Sheri Shamblin / Tom Seidel sshamblin@specialtyconstruction.com / tseidel@specialtyconstruction.com