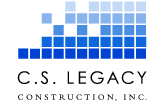 License # 826870
5781 Schaefer Avenue Chino, CA 91710
Phone: (909) 590-2626 Fax: (909) 590-4117
C.S. Legacy Construction, Inc An Equal Opportunity Employer is requesting quotations from all qualified SLBE and ELBE Sub-contractors and Material suppliers performing commercially useful functions for the following project:
Project No. K-21-1870-DBB-3
Project Name: University Avenue Mobility Project
Contracting Agency: City of San Diego
SLBE participation: 12.3% ELBE participation: 12.8%
Total mandatory participation: 25.1%
Bid Date: December 15, 2020 at 2pm
New Bid Date: January 12, 2021 at 2pm
***Addendum 1 issued 12/8/2020***
https://www.planetbids.com/portal/portal.cfm?companyID=17950
Project Description: The proposed project provides for the removal of an existing traffic signal; installation of three new traffic signals, street lights, raised median, curb ramps, pedestrian barricades, enhanced pedestrian crossings, and pedestrian countdown signal heads; modifications to the traffic signal and streetlight systems; signing and striping to provide for left-turn pockets and transit/right-turn only lanes; consolidation of transit stops; and relocation of parking to new side street parking.
Quotes for Services and Supplies requested for the following items for bid including, but not limited to: 237310 Highway, Street, and Bridge Construction, 238210 Electrical Contractors, 238910 Site Preparation Contractors,
238990 All Other Specialty Trade Contractors, 561730 Landscaping Services, 541820 Public Relations Agencies, 562910 Remediation Services.
C.S. Legacy Construction, Inc. is willing to break items of work into smaller increments to assist SLBE/ELBE Contractors and Suppliers in obtaining work on this project. 100% Performance and Payment bonds required. Subcontractor's must possess a current contractor's license. Please contact us for details.
Please call if you need assistance in obtaining bonding, insurance, equipment, materials, and/or supplies.
Plans & Specifications are available for viewing for free at our office, available on bid mail, available on the agency's website, and can be requested through email.
Website Free of Charge: https://www.planetbids.com/portal/portal.cfm?companyID=17950
Subcontractors must also be registered with a current DIR number
https://www.dir.ca.gov/Public-Works/Contractor-Registration.html
C.S. Legacy Construction, Inc.
License # 826870
5781 Schaefer Ave. Chino, CA. 91710
Phone: 909-590-2626 Fax: 909-590-4117
Contact: Angela Gonzalez
angela@cslegacy.net