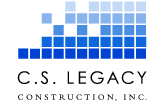 License # 826870
5781 Schaefer Avenue Chino, CA 91710
Phone: (909) 590-2626 Fax: (909) 590-4117
C.S. Legacy Construction, Inc Is an Equal Opportunity Employer and is requesting quotations from all qualified DBE Sub-contractors and Material suppliers performing commercially useful functions for the following project:
Project No. CI 5492
Project Name: Conejo School Road and Willow Lane Sidewalk and Bike Lanes
Contracting Agency:City of Thousand Oaks
Project Description: The work consists of furnishing all labor, materials, tools, equipment, and incidentals as require by the plans (Drawing Number 18-08A, Sheets 1-66), Specifications and Contract Documents. The general items of work include constructing roadway pavement section, sidewalks, curb and gutter, retaining walls, storm drains, catch basins and stormwater treatment areas, reconstructing curb ramps and driveways, removing trees, relocating and adjusting utilities, waterline improvements, relocating mailboxes, installing guardrail and flashing beacons, street lighting facilities, signing and striping, planting landscaping, irrigation and appurtenances.
DBE GOAL:11%
Project Location: Conejo School Road from US 101 Freeway to Hillcrest Drive and Willow Lane from US 101 Freeway to Hampshire Road in the City of Thousand Oaks.
Bid Date: Wednesday, December 9, 2020 at 3:30PM
Quotes for Services and Supplies requested for the following items for bid including, but not limited to: LANDSCAPING MATERIALS SUPPLIER; SAND & GRAVEL SUPPLIER; GUARD RAILING & BARRIERS SUPPLIER; CONSTRUCTION AREA SIGNS; TRAFFIC CONTROL SYSTEM; RESET, ADJUST ROADWAY
ITEMS; PLANE ASPHALT CONCRETE; CREMOVE CONCRETE; CLEARING & GRUBBING; ROADWAY EXCAVATION; GRADING; STRUCTURE EXCAVATION; HIGHWAY PLANTING; SOIL AMENDMENTS;
EROSION CONTROL; IRRIGATION SYSTEM; TEMPORARY EROSION CONTROL; FINISHING ROADWAY; AGGREGATE BASE; ASPHALT CONCRETE; PAVING ASPHALT (ASPHALT CONCRETE); PLACE ASPHALT CONCRETE DIKE & MISC; MINOR CONCRETE STRUCTURE; CONCRETE BLOCK & MASONRY RETAINING WALL; REINFORCING STEEL; ROADSIDE SIGN; REINFORCED CONCRETE PIPE; PLASTIC PIPE; CONCRETE CURB & SIDEWALK- MISC; SAW CUTTING; FENCING; TEMPORARY FENCING; METAL BEAM GUARD RAILING; THERMOPLASTIC TRAFFIC STRIPING & MARKING; PAINTED TRAFFIC STRIPING & MARKING; REMOVE PAVEMENT MARKING & TRAFFIC STRIPES; PAVEMENT MARKING; MAINTENANCE EXISTING TRAFFIC MGMT SYSTEM ELEMENTS DURING CONSTRUCTION; SIGNAL & LIGHTING; SWPPP PLANNING; SUPER 10 DUMP TRUCK; END DUMP TRUCK; STREET SWEEPING TRUCK; LANDSCAPING CONTRACTOR; CUTTING;
C.S. Legacy Construction, Inc. is willing to break items of work into smaller increments to assist DBE Contractors and Suppliers in obtaining work on this project. 100% Performance and Payment bonds required. Subcontractor's must possess a current contractor's license. Please contact us for details.
Please call if you need assistance in obtaining bonding, insurance, equipment, materials, and/or supplies.
Plans & Specifications are available for viewing at our office, available on bid mail, available on the agency's website for a fee, and can be requested through email. https://toaks.procureware.com/Bids
Subcontractors must also be registered with a current DIR number
https://www.dir.ca.gov/Public-Works/Contractor-Registration.html
C.S. Legacy Construction, Inc.
License # 826870
5781 Schaefer Ave. Chino, CA. 91710
Phone: 9095902626 Fax: 9095904117
Contact: Angela Gonzalez
angela@cslegacy.net