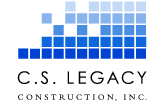 License # 826870
5781 Schaefer Avenue Chino, CA 91710
Phone: (909) 590-2626 Fax: (909) 590-4117
C.S. Legacy Construction, Inc Is an Equal Opportunity Employer and is requesting quotations from all qualified DBE Sub-contractors and Material suppliers performing commercially useful functions for the following project:
Project No. CI 5308
Project Name: Rancho Road Sidewalks and Bike Lanes
Contracting Agency: City of Thousand Oaks
Project Description: The general items of work include Construction of new sidewalk; Retaining walls; new and retrofit of existing curb ramps at US 101/Rancho Road ramps, slope paving at US-1010 underpass; Traffic signal modification at the NB ramps and New Traffic Signal at SB Ramps; Bike signals; Protected Bike Lane Crossings on SB Rancho Road; Storm drain inlet relocations; miscellaneous grading and AC Paving; landscaping; irrigation; micro-surfacing, restriping of Rancho Road, per specifications.
Project Location: on Rancho Road between Thousand Oaks Blvd. and US 101 SB Ramps
Plans & Specifications are available for viewing at our office, available on bid mail, available on the agency's website for a fee, and can be requested through email.
https://drive.google.com/file/d/1Hqh4VndikPwTDWtHwFGMCdacR80ZWiYX/view
Bids open Wednesday, December 2nd, 2020 at 3:30PM
Quotes for Services and Supplies requested for the following items for bid including, but not limited to: Temporary Erosion Control, Traffic Control, Lead Compliance Plan, Remove Striping, Pavement Marking And Markers, Cold Plane Asphalt Concrete, Remove Concrete, Clearing And Grubbing, Retaining Wall , Roadway Excavation, Structure Backfill, Class 2 Aggregate Base, Lean Concrete Base, Hot Mix Asphalt (Type A), Structural Concrete, Slope Paving (Concrete), Concrete Curb And Gutter, Chain Link Fence, Cable Railing, Minor Concrete, Reinforced Concrete Pipe, Traffic Signs, Striping, Pavement Markings, And Markers, , Construction Area Traffic Signs And Delineators, Traffic Signal Modifications, Landscaping Contractor.
C.S. Legacy Construction, Inc. is willing to break items of work into smaller increments to assist DBE Contractors and Suppliers in obtaining work on this project. 100% Performance and Payment bonds required. Subcontractor's must possess a current contractor's license. Please contact us for details.
Please call if you need assistance in obtaining bonding, insurance, equipment, materials, and/or supplies.
Subcontractors must also be registered with a current DIR number
https://www.dir.ca.gov/Public-Works/Contractor-Registration.html
C.S. Legacy Construction, Inc.
License # 826870
5781 Schaefer Ave. Chino, CA. 91710
Phone: 909-590-2626 Fax: 909-590-4117
Contact: Angela Gonzalez
angela@cslegacy.net