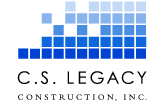 License # 826870
5781 Schaefer Avenue Chino, CA 91710
Phone: (909) 590-2626 Fax: (909) 590-4117
C.S. Legacy Construction, Inc Is requesting quotations from all qualified SLBE and ELBE Sub-contractors and Material suppliers performing commercially useful functions for the following project:
Project No. K-21-1941-DBB-3
Project Name: La Paz Mini Park
Contracting Agency: City of San Diego
Project Description: Plans, details, notes, and specifications for the construction of La Paz Mini Park, including demolition, grading, paving, shade structure (separate permit submittal), play area structures and safety surfacing, picnic tables, fitness equipment, drinking fountain, sidewalk and R/W improvements, planting, irrigation systems, drainage and other park amenities as shown on plans.
SLBE participation: 9.5% ELBE participation: 11.7%
Total mandatory participation: 21.2%
Bid Date: Wednesday, December 2nd at 2pm
NEW Bid Date: Friday, December 4th at 2pm
Quotes for Services and Supplies requested for the following items for bid including, but not limited to: 238990 - All Other Specialty Trade Contractors - PARKING AND HIGHWAY IMPROVEMENT CONTRACTOR, PIPELINE CONTRACTOR, FENCING CONTRACTOR, SIGN CONTRACTOR, 238110 - Poured Concrete Foundation and Structure Contractors - CONCRETE CONTRACTOR, 238210 - Electrical Contractors - ELECTRICAL CONTRACTOR, 561990 - All Other Support Services CONSTRUCTION ZONE TRAFFIC CONTROL CONTRACTOR, 561730 - Landscaping Services LANDSCAPING CONTRACTOR, 238120 - Structural Steel and Precast Concrete Contractors BUILDING MOVING/DEMOLITION CONTRACTOR, 237310 - Highway, Street, and Bridge Construction - EARTHWORK AND PAVING CONTRACTOR.
C.S. Legacy Construction, Inc. is willing to break items of work into smaller increments to assist SLBE/ELBE Contractors and Suppliers in obtaining work on this project. 100% Performance and Payment bonds required. Subcontractor's must possess a current contractor's license. Please contact us for details.
Please call if you need assistance in obtaining bonding, insurance, equipment, materials, and/or supplies.
Plans & Specifications are available for viewing at our office, available on bid mail, available on the agency's website, and can be requested through email.
Website Free of Charge: https://www.planetbids.com/portal/portal.cfm?companyID=17950
Subcontractors must also be registered with a current DIR number
https://www.dir.ca.gov/Public-Works/Contractor-Registration.html
C.S. Legacy Construction, Inc.
License # 826870
5781 Schaefer Ave. Chino, CA. 91710
Phone: 9095902626 Fax: 9095904117
Contact: Angela Gonzalez
angela@cslegacy.net