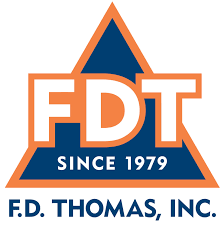 Is requesting quotations from all qualified DBE subcontractors and material suppliers performing commercially useful functions for the following project:
Owner: Caltrans Project No. 07-305704
Location: Los Angeles County
District-County-Route-Post Mile: 07-LA-110-25.5
Project Description: Bridge Painting
Bid Date: December 6th, 2018 @ 2:00 PM
DBE Goal: 13%
This request includes, but is not limited to, the following:
LEAD COMPLIANCE PLAN; PROGRESS SCHEDULE (CRITICAL PATH METHOD); TIME RELATED
OVERHEAD (WDAY); CONSTRUCTION AREA SIGNS; TRAFFIC CONTROL SYSTEM;
JOB SITE MANAGEMENT; WATER POLLUTION CONTROL PROGRAM; WORK AREA
MONITORING (BRIDGE)
Plans: https://www.dropbox.com/sh/6z0t4mj0k3zo387/AABwlM1YSiEokBtaqeCHxK9xa?dl=0 or can be viewed from Caltrans at: http://www.dot.ca.gov/des/oe/weekly-ads/specs-ntb.php?c=07-305704
Info: F. D. Thomas Inc. is a union signatory contractor. Subcontractors must possess a current contractor's license, insurance coverage and worker's compensation for the entire length of the contract.
All subcontractors will be required to sign our standard Subcontract Agreement, 100% payment and performance bonds may be required. Please call if you need assistance in obtaining insurance, bonding, equipment, materials and/or supplies.
F. D. Thomas Inc. intends to work cooperatively with all qualified firms seeking work on this project. We are an equal opportunity employer and will work with any interested subcontractor to identify opportunities to break items into economically feasible packages.
FD Thomas, Inc.
217 Bateman Dr
Central Point, OR, 97502
Phone: 541-664-3010 Fax: 541-664-1105
Email: bids@fdthomas.com
Mike Kostenko