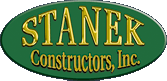 License # 869424
Stanek Constructors, Inc. is soliciting bids from Certified and qualified DBE/MBE/WBE/SBE firms on the following project:
Project Name: RP-1 1158 Zone Recycled Water Pump Station Upgrades
Owner: Inland Empire Utilities Agency
Project Number: EN14042
Project Location: Regional Water Recycling Plant No. 1 (RP-1) 2662 East Walnut Street, Ontario, CA 91761.
The proposal is due October 16, 2018 at 2:00 p.m. local time
Scopes of work include but are not limited to: Site Work, Demolition, Earthwork, Asphalt Paving, Concrete Paving, Concrete, Cast-in-Place Concrete, Concrete Reinforcement, Rebar, Metals, Miscellaneous Metalwork, Protective Coatings, Mechanical, Pipe Supports, Valves, Electrical, Instrumentation and Controls
Plans are available at no cost and can be accessed through our Plan Room at www.stanekconstructors.com.. Once you are on the website the plan room will be on the top righthand corner. Click on plan room, then click access FTP Plan Room and you will find the 1158 Zone Recycled Water Pump Station Project folder. For Plan Room, technical assistance and assistance in obtaining necessary equipment, supplies or materials contact Don Stanek at 303-980-8233, or email them at dstanek@stanekconstructors.com,. All bids over $100,000. Require 100% Payment and performance bond. Bonds may be required on lesser amounts depending on scope. For assistance with bonding, lines of credit, insurance, contact Jerry Arguello at 303-980-8233, or email him at jarguello@stanekconstructors.com. The bid specs outline the Insurance requirements, i.e. Workers Compensation, GL, Auto, Builders Risk and Umbrella.
Scopes and quotes should be submitted prior to the proposal submittal time at our California office by:
October 16, 2018 at noon.
Stanek Constructors, Inc.
701Palomar Airport Rd., Suite 280
Carlsbad, CA 92011
Phone 760-871-0102
Fax 760-438-4322
Jerry E. Arguello jarguello@stanekconstructors.com

Stanek Constructors, Inc. intends to conduct negotiations in good faith with DBE/MBE/WBE/SBE subcontracting, supplier, services, and equipment firms for participation on this project. Stanek Constructors, Inc. is an equal opportunity affirmative action employer. Minorities, women, disabled and veterans are encouraged to apply for available openings.