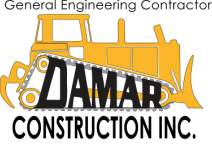 License # 722632(A)
An Equal Opportunity Employer
Is requesting quotations from all qualified DBE Sub-contractors and Material suppliers
performing commercially useful functions for the following project:
County of Santa Barbara Project No. 18STM1-FDMS
Debris Processing Project
Foothill Debris Management Site
In the Second Supervisorial District
DBE goal 6%
BID DATE: Thursday September 13, 2018 @ 2:00 PM
***Addendum 1 issued 9/4/18 ***
Quotes for Services and Supplies requested for the following items for bid including, but not limited to:
Surveying, Erosion Control/SWPPP, Piping/Utilities
NOTE: Damar Construction, Inc. is willing to break items of work into smaller increments to assist DBE Contractors and Suppliers in obtaining work on this project. 100% Performance and Payment bonds required. Subcontractor's must possess a current contractor's license. Please contact us for details.
The US Small Business Administration may also assist you in obtaining bonding - please see the following site for information: http://www.sba.gov/content/contractors#
Please call if you need assistance in obtaining: bonding, insurance, equipment, materials, and/or supplies.
Plans & Specifications are available for viewing at our office or obtained from the Owner or portions may be emailed upon request.
Contractors and Subcontractors must register with D.I.R (Department of Industrial Relations) to bid on public works projects. To verify your status or to obtain a D.I.R number, please visit:
http;//dir.ca.gov/Public-Works/Contractors.html
Damar Construction, Inc.
License 722632(A)
4773 Ortega Street, Ventura, CA 93003
Phone: (805) 654-8438 Fax: (805) 654-8553
Contact: Jason Fiscalini
jason@damarconstruction.com