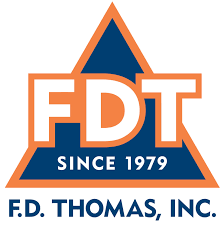 F. D. THOMAS, INC. IS SEEKING QUOTATIONS FROM ALL QUALIFIED SBEs & DVBEs SUBCONTRACTORS AND/OR MATERIAL SUPPLIERS FOR:
Awarding Agency - Metropolitan Water District of Southern California
Project Name: Colorado River Aqueduct Cholla Wash Conduit Lining - MM 126.55 To MM 126.74
Bid/Contract # - Specifications Number 2016
Project Location - 100 Hayfield Road, Desert Center, CA 92239, Riverside County.
SBE/DVBE Goal: 15%
Estimated Bid Value: $1,400,000 to $1,700,000
Bids Open October 6, 2021 at 2:00 PM
Project description - The work consists of lining approximately 1,000 linear feet of large horseshoe-shaped concrete conduit with epoxy pipe lining, surface preparation and repair prior to lining, temporary ventilation, and other appurtenant work as specified and shown on the figures.
Plans and Specs can be viewed online at: https://pbsystem.planetbids.com/portal/16151/bo/bo-detail/86486
We are requesting bids for the following trades and/or material suppliers: Biologist services, Scaffolding, WPCP/BMP's, Dehumidification, Ventilation, Bypass Pumping, Material Suppliers, Equipment Suppliers.
F. D. Thomas Inc. is a union signatory contractor. Subcontractors must possess a current contractor's license, insurance coverage and worker's compensation for the entire length of the contract. All subcontractors will be required to sign our standard Subcontract Agreement, 100% payment and performance bonds may be required. Please call if you need assistance in obtaining insurance, bonding, equipment, materials and/or supplies. F. D. Thomas Inc. intends to work cooperatively with all qualified firms seeking work on this project. We are an equal opportunity employer and will work with any interested subcontractor to identify opportunities to break items into economically feasible packages.
Outreach Coordinator - Laura Boyles
Email – Bids@fdthomas.com
Project Estimator - Todd Anderson
Telephone - (541) 664-3010 Ext. 1122
Fax - (541) 664-1105
FD Thomas, Inc.
217 Bateman Dr Central Point
OR, 97502
Email: bids@fdthomas.com