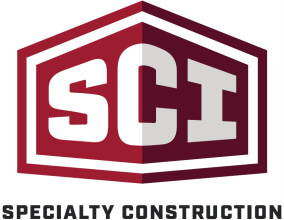 An Equal Opportunity Employer
Is requesting quotations from all qualified DBE Sub-contractors and Material suppliers performing commercially useful functions for the following project:
Agency: Sultana Community Services District
Project: Sultana-Monson Safe Drinking Water Project
This work is located in the County of Tulare, California.
The Engineer's opinion of probable construction cost is: $6,160,000.00.
Bids open September 29, 2022 at 2:00 PM
DBE Goal: 2%
Addendum 1-3 issued
General work description: In general, the Work consists of furnishing all labor, materials and equipment necessary to install meters and meter boxes in Sultana, services and boxes in Monson and Road 104, 12-inch water main along Road 104 and 8-inch water main in Monson, Jack and Bore across Union Pacific Railroad Right-of-Way, directional drill under Alta Irrigation District (AID) canal crossings, new well no. 4 site including drilling a new well, well equipment, hydropneumatic tank, site piping and appurtenances, chlorine shed, chemical pump and analyzer, MCC equipment and shade structure, and site electrical work in accordance with the Plans and the Specifications.
Plans & Specs available via email request to sshamblin@specialtyconstruction.com
Specialty Construction is requesting quotes from all qualified subcontractors and suppliers including certified DBE firms for the following items of work, including but not limited to Traffic Control, Prepare And Implement Storm Water Pollution Prevention Plan, Prepare And Implement Dust Control Plan, Clearing And Grubbing, Well No. 2 Site Demolition, Well No. 2 Abandonment, Drill 50' Deep, 42" Diameter Hole,, F&I 50' Of 32" Od X 5/16" Wall Conductor Casing & Grout In Place, Drill 28" Diameter Hole Below Conductor Casing (To 620 Foot Bgs), Conduct Electric Logging And Caliper Logging, F&I 16-5/8" Od X 3/8" Wall Blank Hsla Casing, F&I 16-5/8" Od X 5/16" Wall Stainless Steel Louvered Casing, F&I 3" Diameter Gravel Feed Tube, F&I 2" Diameter Sounding Tube, F&I Gravel Envelope, F&I Annular Seal, Conduct Preliminary Well, Development By Airlifting And Swabbing, Conduct Well Development By Pumping And Surging, Conduct Test Pumping, Conduct Television Survey, Well Pump And Motor, Pump Foundation, Site Piping, Valves And Appurtenances, Prefabricated Chemical Storage Shed And Pad, Chlorination Equipment, Backflow Preventer, Eyewash Station, And Concrete Pad, Hydropneumatic Tank, F&I Mcc Concrete Foundation And Shade Structure, F&I Motor Control Center, Site Electrical Services, Controls, And Lighting, Furnish And Install Generator, Chain Link Fence And Access Gate, Site Grading, 6" Class Ii Aggregate Base Surfacing Dry Well, 12" Pvc, C-900 (Dr-18) Water Main, 8" Pvc, C-900 (Dr-18) Water Main, 12" Hdpe Dr-13.5 (C-906) Water Main, Bore And Jack 20" Casing And 8" Carrier Pipe, 12" Gate Valve Assembly, 8" Gate Valve Assembly, Bacteriological Sampling Station, Permanent Blowoff Assembly, 1-Inch Type 1 Combination Air Release Valves, 1-Inch Type 2 Air Release Valves, Fire Hydrant Assembly, Pressure Reducing Valve Assembly, Pothole Existing Service Lines In Sultana, Integrate Current Analytics (Amr), Software With District'S Billing Software, Analytics Software Training, ¾" Water Meter And Meter Box, ¾" Water Meter, 1" Water Service And Meter Box, 1" Water Meter And Meter Box, 1" Water Meter, 1-1/2" Water Meter And Meter Box, 2" Water Meter And Meter Box, 4" Meter And Backflow Assembly (School), Temporary Trench Resurfacing (Main), Permanent Trench Resurfacing (Main), Connection To Existing Water Mains In Monson, Connection To Existing Water Main At Road 104 In Sultana, Connection To Existing Water Main At Avenue
Specialty Construction is willing to break down quotes into comparable packages as reasonably necessary. SCI will work with interested MBE/WBE/DBE/SBE/SBRA/LSAF/ HUB firms to identify opportunities to break down items into economically feasible packages. Subcontractor/Supplier Requirements: In most cases subcontracts in excess of $50,000 may require 100% performance and payment bonds for the full amount of subcontract price. SCI will pay for bond premiums up to 2%. Subcontractors must be registered with the Department of Industrial Regulations (DIR), possess a current contractor's license, insurance and worker's compensation coverage meeting SCI and Owner's requirements. Subcontractors will also be required to sign the standard SCI Subcontract Agreement or Purchase Order as appropriate. For copies of the insurance requirements, Subcontract Agreement or Purchase Order, please contact Sheri Shamblin. Include with your bid the Time required for Performance of your work and any Delivery Schedules so that we can establish a Flexible Timeframe for your work, however, contract time availability is dictated by the Contract Documents.
Specialty Construction, Inc.
License No. 619361
645 Clarion Ct., San Luis Obispo, CA 93401
Phone: 805-543-1706 Fax: 805-543-1722
Estimator: Jason Bates at jbates@specialtyconstruction.com