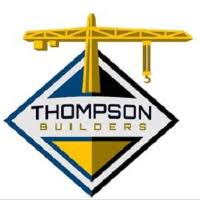 License No. 626859
5400 Hanna Ranch Road Novato, CA 94945
Phone: 415.456.8972 Fax: 415.459.0665
THOMPSON BUILDERS CORPORATION is requesting bids from ALL subcontractors, suppliers & truckers, but ESPECIALLY MBE/WBE subcontractors, suppliers & truckers for the following project:
Agency: County of Sonoma Department of Public Infrastructure / Sonoma County Transit
Project: Sonoma County Transit Electric Bus Charging Facility
Bids open August 22, 2023, at 2:00 PM
Engineer's estimate $2,672,325 base bid
MBE/WBE Participation
Project Description: Extension of the existing concrete parking surface to the north and west of the existing bus parking area. Includes addition of 19 bus charging stalls, related striping and concrete walkways. New chargers shall include but not limited to charger and dispenser by Proterra, charger and dispensers by Heliox, and charger and dispensers by BYD. Dispenser and changer apparatuses shall be procured and provided by the County for the project. Removal of existing lighting and drainage facilities. Reinstallation of the existing lighting fixtures. Installation of new bioretention treatment area and related landscaping and irrigation. Installation of new private fire hydrant and connection to existing site fire water main. Installation of Main Switchboard & Manual Bypass Switches and the SB-1 which are provided by the County for the project. The installation includes the conduit and cable infrastructure for the electrical equipment.
Plans and specifications may be emailed upon request or downloaded from the following link: https://tpcorp.box.com/s/lzer0cirny9vj5d52ihalkr58v5y7tkp
Quotes for Services and Supplies requested for the following items for bid including, but not limited to: SWPPP, Erosion Control, Common Work Results For Electrical, Low Voltage Electrical Power Conductors & Cables, Grounding And Bonding For Electrical Systems, Raceway And Boxes For Electrical Systems, Identification For Electrical System, Natural-Gas Engine Driver Generator Set, Site Clearing, Earth Moving, Utility Trenching And Backfill, Pavement Base Course, Concrete Pavement, Cement And Concrete For Exterior Improvements, Concrete Curbs And Gutters, Pavement Markings, Chain-Link Fences And Gates, Water System, Class 2 Aggregate Surface, Striping
*No contractor or subcontractor may be listed on a bid proposal for a public works project (submitted on or after March 1, 2015) unless registered with the Department of Industrial Relations pursuant to Labor Code section 1725.5 [with limited exceptions from this requirement for bid purposes only under Labor Code section 1771.1(a)] *No contractor or subcontractor may be awarded a contract for public work on a public works project (awarded on or after April 1, 2015) unless registered with the Department of Industrial Relations pursuant to Labor Code section 1725.5. *This project is subject to compliance monitoring and enforcement by the Department of Industrial Relations.
We are signatory to both the Carpenters Collective Bargaining Agreement and the Laborers Collective Bargaining Agreement. Certification of insurance for General Liability and Workers' Compensation are required. A Waiver of Subrogation will also be required with all Subcontract Agreements. Subcontractors' faithful performance and payment bonds in the amount of the subcontract price will be required. Reasonable market rate bond premium will be reimbursed by Thompson Builders Corporation.
TBC is willing to discuss breaking down bid items into economically feasible units for minority participation. Our estimating department is available for assistance with bonding, lines of credit, insurance, equipment, supplies and/or materials. The Small Business Administration (www.sba.gov ), the California Dept. of General Services (www.dgs.ca.gov) and U.S. Dept. of Transportation Office of Small and Disadvantaged Business Utilization (www.osdbu.dot.gov ) may also be able to offer financial assistance and/or information regarding insurance and bonding.
Thompson Builders Corporation
an Equal Opportunity Employer
Contact: Leah Oba
PHONE: (415) 456-8972 FAX: (415) 459-0665
EMAIL: bids@tbcorp.com