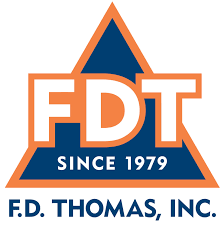 Is requesting quotations from all qualified DBE, MBE, WBE subcontractors and material suppliers for the following project:
Project Name: Chlorine Contact Basin Repair Project
Owner: Hidden Valley Lake Community Services District
Location: Hidden Valley Lake ~ Lake County, CA
Bid Date: August 10th, 2018 @ 11:00 AM
This request includes, but is not limited to, the following:
Replacement of Valve Actuators; Relocation of Valve Actuator Controls; Relocation of electrical connections; Replacement of Sump Pumps.
Plans: https://www.dropbox.com/sh/589hkam0qlwe90z/AADt2bs83lRSVnyZLmMftsDPa?dl=0
Info: F. D. Thomas Inc. is a union signatory contractor. Subcontractors must possess a current contractor's license, insurance coverage and worker's compensation for the entire length of the contract.
All subcontractors will be required to sign our standard Subcontract Agreement, 100% payment and performance bonds may be required. Please call if you need assistance in obtaining insurance, bonding, equipment, materials and/or supplies.
F. D. Thomas Inc. intends to work cooperatively with all qualified firms seeking work on this project. We are an equal opportunity employer and will work with any interested subcontractor to identify opportunities to break items into economically feasible packages.
FD Thomas, Inc.
200 Harris Ave
Sacramento, Ca 95838
Phone: (916) 922-1505 Fax: (916) 922-1511
Email: bids@fdthomas.com
Phil Sadler