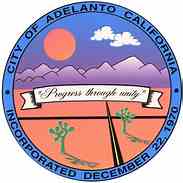 Publication Date/Time:
7/29/2019 12:00 AM
Closing Date/Time:
8/29/2019 12:00 PM
Related Documents:
City of Adelanto Specialized Staffing Services
Description: The City of Adelanto ("City") is requesting proposals from professional firms or individuals qualified to provide staffing services to support the City in its operations. It is expected that the qualified firm or individual will provide auditing, monitoring and inspection services of the City's Cannabis businesses and support the City operations in maintaining and implementing best administrative and financial practices and maintain compliance with all regulatory requirements and regulations pertain to Cannabis.
The selected firm or individual will focus on administrating day to day inspection and monitoring operations of the City's Cannabis operators and conduct the following task:
• Auditing financial documents of active and non-active cannabis businesses who operate(ed) in the City.
• Establishment of case tracking module in GovOutreach to hold active data including but not limited to contact information, inspection notes, audit notes, photos, letters, phone call and email notes.
• Creation of Cannabis Compliance manual that documents process for annual audit, monitoring and inspection requirements.
• Daily operator technical assistance with tax returns and payment analysis.
• Analysis of City financials/tax payments to identify businesses not in compliance and initiating contact to seek compliance.
• Stadium coordination to establish effective partnership and ensure the City is recovering revenue.
• Research and investigate cannabis businesses to refer to permit department when operating illegally.
• Create sound internal controls for cannabis compliance and monitor adherence to them.
Evaluate the efficiency of controls and improve them continuously.
• Prepare reports for senior management and external regulatory bodies as appropriate. For example, quarterly auditors report and cannabis compliance analysis.
• Prepare and consolidate financial statements and work papers and provide support for outstanding external audits.