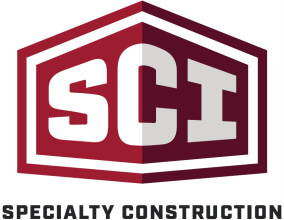 An Equal Opportunity Employer
Is requesting quotations from all qualified DBE Sub-contractors and Material suppliers performing commercially useful functions for the following project:
Agency:County of Monterey / Project No. 621082 / Federal Aid Project No. PA-09-CA-4301-PW-00671
Project: Toro Road Embankment Failure Project
Project City, State: Salinas, California
Project Description: The general work description for the "Toro Road Embankment Failure Project" is the construction for the repairs of the storm damage to Toro and Robley Road, including but not limited to clearing and grubbing, traffic control, excavation and backfill, retaining wall, and pavement. Such other items or details, not mentioned above, that are required by the Construction Plans, Standard Specifications, Standard Plans, or these Special Provisions, shall be performed, placed, constructed, and/or installed.
Plans & Specs available via email request to sshamblin@specialtyconstruction.com
DBE Goal: 13%
The Engineer's Estimate for the construction costs is $1,668,000.
Bids open July 8, 2022 at 3:00 PM
Specialty Construction is requesting quotes from all qualified subcontractors and suppliers including certified DBE firms for the following items of work, including but not limited to Develop Water Supply, Construction Staking, Construction Area Signs, Traffic Control System, Traffic Cone, Temporary Traffic Stripe (Tape), Temporary Pavement Marking (Tape), Channelizer (Surface Mounted), Temporary Railing (Type K), Temporary Alternative Crash, Job Site Management, Prepare Water Pollution Control, Temporary Fiber Roll, Temporary Silt Fence, Temporary Concrete Washout, Contractor-Supplied Biologist (Ls), Clearing And Grubbing (Ls), Roadway Excavation, Fiber Rolls, Hydroseed, Class 2 Aggregate Base (Cy), Hot Mix Asphalt (Type A), Place Hot Mix Asphalt Dike (Type A), Place Hot Mix Asphalt (Miscellaneous Area) , Remove Asphalt Concrete Dike, Reset Roadside Sign (One Post), Vegetation Conrol (Minor Concrete), Transition Railing (Type Wb-31), Alternative In- Line Terminal System, Remove Guardrail, Structure Excavation, Concrete Backfill (Soldier Pile Wall), Lean Concrete Backfill, Ground Anchor (Subhorizontal), Steel Soldier Pile (W 10 X 54), 36" Drilled Hole, Structural Concrete, Barrier Slab , Architectural Treatment, Precast Concrete Lagging, Clean And Paint Steel Soldier Piling, Geocomposite Drain, Filter Fabric, Miscellaneous Metal (Retaining Wall), Prepare And Stain Concrete, Concrete Barrier (Type 836), Concrete Barrier (Type 60Mf), Mobilization.
Specialty Construction is willing to break down quotes into comparable packages as reasonably necessary. SCI will work with interested DBE firms to identify opportunities to break down items into economically feasible packages. Subcontractor/Supplier Requirements: In most cases subcontracts in excess of $50,000 may require 100% performance and payment bonds for the full amount of subcontract price. SCI will pay for bond premiums up to 2%. Subcontractors must be registered with the Department of Industrial Regulations (DIR), possess a current contractor's license, insurance and worker's compensation coverage meeting SCI and Owner's requirements. Subcontractors will also be required to sign the standard SCI Subcontract Agreement or Purchase Order as appropriate. For copies of the insurance requirements, Subcontract Agreement or Purchase Order, please contact Sheri Shamblin. Include with your bid the Time required for Performance of your work and any Delivery Schedules so that we can establish a Flexible Timeframe for your work, however, contract time availability is dictated by the Contract Documents.
Specialty Construction, Inc.
License No. 619361
645 Clarion Ct., San Luis Obispo, CA 93401
Phone: 805-543-1706 Fax: 805-543-1722