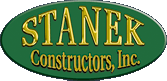 701Palomar Airport Rd., Suite 280
Carlsbad, CA 92011
License # 869424
Stanek Constructors, Inc. is soliciting bids from Certified and qualified SLBE/ELBE/DBE/DVBE/MBE/WBE/OBE/SDB/WoSB/HUBZone/SDVOSB/SBE firms on the above referenced project.
City of San Diego's Ultraviolet Disinfection System Replacement project, Bid No. K-19-1809-DBB-3

Location of work is at: 2411 Dairy Mart Road, San Diego, CA 92154
The proposal is due May 2, 2019 at 2:00 p.m. local time
Scopes of work include but are not limited to: Site Work, Concrete, Miscellaneous Metals, Sealants & Caulking, Protective Coatings, Electrical, Instrumentation & Controls, Piping, and Outdoor Fiber Optic Cable Systems.
Stanek Constructors, Incis willing to break items of work into smaller increments to assist SBEDVBE/WBE/MBE Contractors and Suppliers in obtaining work on this project. Metropolitan Water District expects the total cost of construction to range between 7,800,000 and 9,500,000. Location of work is at Joseph Jensen Water Treatment Plant at 13100 Balboa Boulevard, Granada Hills, CA 91344
Plans are available at no cost and can be accessed through our Plan Room at www.stanekconstructors.com.. Once you are on the website the plan room will be on the top righthand corner. Click on plan room, then click access FTP Plan Room and you will find the Ultraviolet Disinfection project folder. For Plan Room, technical assistance and assistance in obtaining necessary equipment, supplies or materials contact George Foote at 760-884-4124, or email at gfoote@stanekconstructors.com. All bids over $100,000. Require 100% Payment and performance bond. Bonds may be required on lesser amounts depending on scope. For assistance with bonding, lines of credit, insurance, contact Paul Aanes at 218-546-1905, or email him at paul_aanes@ricelake.org. The bid specs outline the Insurance requirements, i.e. Workers Compensation, GL, Auto, Builders Risk and Umbrella.
Scopes and quotes should be submitted prior to the proposal submittal time at our California office by
May 2, 2019 at noon.
Stanek Constructors, Inc.
701Palomar Airport Rd., Suite 280
Carlsbad, CA 92011
Phone 760-871-0102
Fax 760-438-4322 / gfoote@stanekconstructors.com
Stanek Constructors, Inc. intends to conduct negotiations in good faith with SLBE/ELBE/DBE/DVBE/MBE/WBE/OBE/SDB/WoSB/HUBZone/SDVOSB/SBE subcontracting, supplier, services, and equipment firms for participation on this project. Stanek Constructors, Inc. is an equal opportunity affirmative action employer. Minorities, women, disabled and veterans are encouraged to apply for available openings.