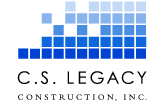 License # 826870
5781 Schaefer Avenue Chino, CA 91710
Phone: (909) 590-2626 Fax: (909) 590-4117
An Equal Opportunity Employer
Is requesting quotations from all qualified WBE/MBE Sub-contractors and Material suppliers performing commercially useful functions for the following project:
CITY OF SANTA ANA ~ PROJECT NO. 21-7533, 21-7534, 21-5735
Campesino Park, Memorial Park, & Madison Park Restrooms
Scope of Work: involves demolition, installation of pre-fabricated building, plumbing, electrical, Portland cement concrete.
Plans & Specifications are available for viewing at our office, available on bid mail, and can be requested through email or Planetbids: https://pbsystem.planetbids.com/portal/20137/bo/bo-search
Bids open March 25, 2021 at 2:00 PM
Bid Date: April 8, 2021 at 2:00 PM
New Bid Date: April 15, 2021 at 2:00 PM
Addendum 1 issued 3/09/2021
Addendum 2 issued 3/22/2021
Addendum 3 issued 4/07/2021
TO VIEW ALL ADDENDUMS PLEASE VISIT: https://pbsystem.planetbids.com/portal/20137/bo/bo-search
Quotes for Services and Supplies requested for the following items for bid including, but not limited to: Demolitoion, PCC Mow Curb, PCC Border & Walkway, Utilities, AC Pavement, Concrete Supply.
C.S. Legacy Construction, Inc. is willing to break items of work into smaller increments to assist SLBE/ELBE Contractors and Suppliers in obtaining work on this project. 100% Performance and Payment bonds required. Subcontractor's must possess a current contractor's license. Please call if you need assistance in obtaining bonding, insurance, equipment, materials, and/or supplies.
Plans & Specifications are available for viewing at our office, available on bid mail, and can be requested through email
Subcontractors must also be registered with a current DIR number
https://www.dir.ca.gov/Public-Works/Contractor-Registration.html
C.S. Legacy Construction, Inc.
License # 826870
5781 Schaefer Ave. Chino, CA. 91710
Phone: 9095902626 Fax: 9095904117
Contact: Angela Gonzalez
angela@cslegacy.net