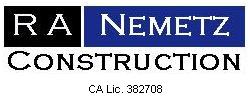 R.A. Nemetz Construction Co., Inc. an Equal Opportunity Employer is requesting sub-bids from all qualified subcontractors and suppliers including certified DBE firms performing commercially useful function for the following project:
Project Owner: County of Placer
Department of Public Works
2964 Richardson Drive
Auburn, CA 95603
Project: Placer County Down Road over Racoon Creek Bridge Replacement
Federal Aid Project No. BRLO-5919 (065)
Bid No. 20165
Location: Lincoln, CA.
Bid Date: Tuesday March 23, 2021 at 11:00 AM
Engineers Estimate: $6,150,000.00
Qualified subcontractors and suppliers including certified DBE firms are asked to submit quotes for all bid items including but not limited to: Water Pollution Control Plan & Sampling, Field Office, Construction Area Signs, Traffic Control System, Portable Changeable Message Signs, Lead Compliance Plan, Bridge Removal, Pipe Removal, Clearing and Grubbing, Roadway Excavation, Rock Slope Protection, Imported Borrow, Asphalt & Related, Furnish & Drive Class 200 Pile, 30" CIDH Piling, Erosion Control, Prestressing Cast-in-Place Concrete, Bar Reinforcing Steel, Corrugated HOPE & Alternative FES, Gutter Depression, Type 85 Concrete Barrier Rail, Temporary & Permanent Fencing, Striping & Midwest Guardrail System.
NOTE: R.A. NEMETZ IS WILLING TO BREAK ITEMS OF WORK INTO SMALLER INCREMENTS TO ASSIST DBE CONTRACTORS & SUPPLIERS IN OBTAINING WORK ON THIS PROJECT.
Please contact us for details.
Please call if you need assistance in obtaining bonding or insurance. Plans & Specifications are available for viewing at our office or obtained from the Owner or portions may be emailed upon request.
Requirements: No Contractor or Subcontractor shall be qualified to bid on, be listed in a bid proposal or engage in the performance of any contract for public work, unless currently registered to perform public work with the Dept of Industrial Relations https://efiling.dir.ca.gov/PWCR/Search.action Subcontractors must possess a current contractor's license, insurance and worker's compensation.
The US Small Business Administration may also assist you in obtaining bonding - please see the following site for information: http://www.sba.gov/content/contractors#
California Access to Capital Program Financing Solutions for your small business! http://www.calbizfinance.org/cal_cert_biz_program.html
R.A. Nemetz Construction Co., Inc.
PO Box 5306
Galt, CA 95632
Phone: (209) 744-1001 Fax: (209) 744-1005
Contact: Mark
mark@ranemetz.com