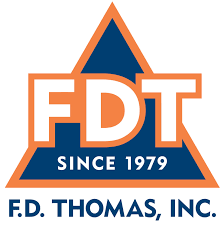 F. D. THOMAS, INC. IS SEEKING QUOTATIONS FROM ALL QUALIFIED SUBCONTRACTORS AND/OR MATERIAL SUPPLIERS INCLUDING BUT NOT LIMITED TO DVBE COMPANIES
Project: Caltrans 04-3G4744 Clean and paint structural steel bridge.t
New Bid Date: November 20th, 2020 at 2:00 PM
*** Addendum 1 issued 2/7/2020***
*** Addendum 2 issued 3/24/2020***
*** Addendum 3 issued 5/15/2020***
To view these addendum please visit:
http://ppmoe.dot.ca.gov/des/oe/weekly-ads/addendum.php?id=04-3G4744
We are requesting bids for the following trades and/or material suppliers. FDT is willing to split bid items based on DVBEs scope of work and capabilities: Lead Compliance Plan, Progress Schedule (CPM), Construction Area Signs, Traffic Control, Prepare Water Pollution Control Program, Scaffolding (Columns), Furnishing and Delivery of Fuel, Hazardous Waste Transportation & Disposal, Equipment Rental, Safety Boat, Tow Boat & Barge Rental, Sanitation Services (toilets).
F. D. Thomas Inc. is a union signatory contractor. Subcontractors must possess a current contractor's license, insurance coverage and worker's compensation for the entire length of the contract. All subcontractors will be required to sign our standard Subcontract Agreement, 100% payment and performance bonds may be required. Please call if you need assistance in obtaining insurance, bonding, equipment, materials and/or supplies.
F. D. Thomas Inc. intends to work cooperatively with all qualified firms seeking work on this project. We are an equal opportunity employer and will work with any interested subcontractor to identify opportunities to break items into economically feasible packages.
Plans and specs are available in our office or on the Caltrans website at
http://ppmoe.dot.ca.gov/des/oe/weekly-ads/all-adv-projects.php
FD Thomas, Inc.
217 Bateman Dr
Central Point, OR, 97502
Phone: 916-922-1505 Fax: 541-664-1105
Email: bids@fdthomas.com
Todd Anderson