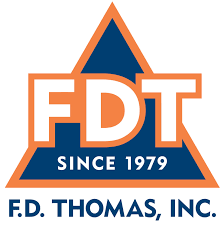 FD Thomas, Inc. Is requesting quotations from all qualified Any sub-contractors and/or material suppliers for the following project:
Rehabilitation of the Ridgewood (0.5MG) and Walnut Drive (1MG) Water Storage Tanks.
Owner: Humboldt Community Services District
Location: Humboldt County, CA
Bid Date: March 19th, 2019 at 02:00 pm
We are requesting bids for the following trades and/or material suppliers:
Disinfection; Exterior Roof; Metal Works; Cathodic Protection; Liquid Level Indicator; Interior Saf-T Climb; Welding
Bid documents can be viewed at or obtained from:
https://www.dropbox.com/s/oj1tt3dtv44wsnx/Compressed%20Walnut%20Ridgewood%20Water%20Tank%20Bid%20Pack.pdf?dl=0
Info: F. D. Thomas Inc. is a union signatory contractor. Subcontractors must possess a current contractor's license, insurance coverage and worker's compensation for the entire length of the contract.
All subcontractors will be required to sign our standard Subcontract Agreement, 100% payment and performance bonds may be required. Please call if you need assistance in obtaining insurance, bonding, equipment, materials and/or supplies.
F. D. Thomas Inc. intends to work cooperatively with all qualified firms seeking work on this project. We are an equal opportunity employer and will work with any interested subcontractor to identify opportunities to break items into economically feasible packages.
FD Thomas, Inc.
217 Bateman Dr
Central Point, OR, 97502
Phone: 541-664-3010 Fax: 541-664-1105
Email: bids@fdthomas.com
Mike Kostenko