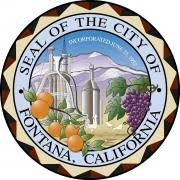 Project No SB-101-DE-17. Federal Aid No. ATPL-5307(024)
Project Name: ARROW BOULEVARD AND FONTANA AVENUE SAFE ROUTES TO SCHOOL
DBE goal: 9%
Project Location: CITY OF FONTANA
BID DATE: October 17, 2017
This request includes the following but not limited to:
Traffic control, PCC sidewalk, curb and gutter construction, AC street pavement removal,
construction, grind and overlay, installing traffic signs, striping and pavement
markings, restoring all areas and improvements to pre-construction conditions, and
all related work required as indicated in the project plans.
Prime contractor and subcontractor shall
possess a Class "A" contractor's license or a combination of Class "C" specialty
Contractor's license(s) sufficient to perform the work.
MANDATORY PRE-BID MEETING
City of Fontana on October 3,
2017 at 10:00 A.M. in the City of Fontana DSO Building DAB Conference Room.