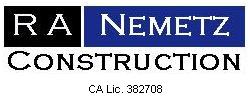 An Equal Opportunity Employer
Is requesting quotations from all qualified
DBE
Sub-contractors and material suppliers for the following project:
New York Creek Trail East - Phase 2
PW No. 15-31108, CIP No. 72308, Contract No. 2899
Federal Aid Project No. CML - 5925 (131)
BID OPENING: Wednesday, June 27, 2018 2:00 P.M.

This request includes the following:
Traffic Control & PCMS; Construction Area Signs;Prepare SWPPP & Related;Temporary Erosion Control;Permanent Erosion Control;Clearing & Grubbing; Roadway Excavation;Imported Borrow;Bar Reinforcing Steel (Bridge);Supply Ready Mix Concrete;Furnish Prefabricated Steel Bridge;Rock Slope Protection;Wood Fence (Split Rail); Traffic Stripe & Marking
NOTE: R.A. NEMETZ IS WILLING TO BREAK ITEMS OF WORK INTO SMALLER INCREMENTS TO ASSIST DBE CONTRACTORS & SUPPLIERS IN OBTAINING WORK ON THIS PROJECT. Please contact us for details.
Please call if you need assistance in obtaining bonding or insurance.
Plans & Specifications are available for viewing at our office or obtained from the Owner or portions may be emailed upon request.
R.A. Nemetz Construction Co., Inc.
PO Box 5306
Galt, CA 95632
Phone: (209) 744-1001 Fax: (209) 744-1005
Contact: Rob Nemetz
Rob@ranemetz.com