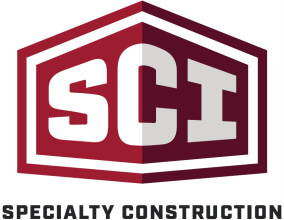 An Equal Opportunity Employer
Is requesting quotations from all qualified DBE Businesses performing commercially useful functions for the following project:
Agency: City of Mendota
Project: Mendota Stormwater Improvement Project
In general, the Work consists of construction of storm drain improvements along two blocks of Naples Street in the City of Mendota with installation of low impact development street tree sponges and conventional drainage infrastructure to capture and convey storm water runoff to a newly constructed extended dry detention basin with a new lift station, landscaping and fencing; along with associated street reconstruction, utility modifications, and other associated improvements.
Plans & Specs: https://www.dropbox.com/sh/oub696mha3gwm3x/AAB-B4DM-kdc6lAJ6vjpq6hha?dl=0
DBE Goal: 2%
The Engineer's opinion of probable construction cost is: $3,650,000.
Bids open Tuesday, April 25, 2023 at 2:00 PM
Bids open Tuesday, May 2, 2023 at 2:00 PM
Specialty Construction is requesting quotes from all qualified subcontractors and suppliers including certified DBE Businesses firms for the following items of work, including but not limited to: Quality Control And Testing, Traffic Control, Construction Staking, Demolition, Concrete Walks, Curbs, Gutters And Driveways, Roadway Excavation & Grading, Aggregate Base, Asphalt Concrete Paving, Traffic Signing Striping And Markings, Detectable Warning Tactile Panels, Fencing, Electrical & Site Furnishings.
Specialty Construction is willing to break down quotes into comparable packages as reasonably necessary. SCI will work with interested DBE firms to identify opportunities to break down items into economically feasible packages. Subcontractor/Supplier Requirements: In most cases subcontracts in excess of $50,000 may require 100% performance and payment bonds for the full amount of subcontract price. SCI will pay for bond premiums up to 2%. Subcontractors must be registered with the Department of Industrial Regulations (DIR), possess a current contractor's license, insurance and worker's compensation coverage meeting SCI and Owner's requirements. Subcontractors will also be required to sign the standard SCI Subcontract Agreement or Purchase Order as appropriate. For copies of the insurance requirements, Subcontract Agreement or Purchase Order, please contact Sheri Shamblin. Include with your bid the Time required for Performance of your work and any Delivery Schedules so that we can establish a Flexible Timeframe for your work, however, contract time availability is dictated by the Contract Documents.
Specialty Construction, Inc.
License No. 619361
645 Clarion Ct., San Luis Obispo, CA 93401
Phone: 805-543-1706 Fax: 805-543-1722
Sheri Shamblin / Jason Bates sshamblin@specialtyconstruction.com / jbates@specialtyconstruction.com