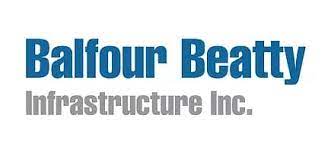 Balfour Beatty Infrastructure, Inc.
Is requesting MBE/WBE/LBE quotes for the following Project:
Project Name: Traction Power Facilities Replacement - Walnut Creek
Agency: San Francisco Bay Area Rapid Transit (BART) | Project No. BARTD-15EK-105
Bid Date: Tuesday, May 2, 2023, at 2:00 PM
MBE Goal: 6.0% | WBE Goal: 3.9% | LBE Goal: 11%
**BART defines LBEs as firms that are listed in the California Department of General Services database for small businesses whose principal place of business is within Alameda, Contra Costa, or San Francisco counties.**
Estimator: Todd Smith
ToSmith@Balfourbeattyus.com
(303) 419-3301
Plans & Specs are available for review at our office or https://www.bart.gov/about/business/procurement/contractsout
Quotes for Services and Supplies requested for the following items for bid including, but not limited to: Sand & Gravel Supplier, Asphalt Supplier, Concrete & Cement Supplier, Rebar Supplier, Pipe Supplier, Fencing Supplier, Clear & Grub, Demolition, Temporary Fence, Traffic Control, Construction Area Signs, Erosion Control, Earthwork/Grading, PVC Pipe Supply, Aggregate Baser, Sewer Manholes, Concrete Structure, AC Paving, Misc .Iron & Steel, CMU Block subcontractor, Fencing, Site Lighting, CCTV, Electrical Material Suppliers, Reinforcing Steel, Waterproofing, Clean & Paint Steel, Concrete Curb & Sidewalk, Metal Railings, Traffic Stripes, Pavement Markings, Concrete Sawcutting, Trucking, PG&E Qualified Electrical Ductbank subcontractor & Fence subcontractor.
Todd Smith is the Estimator for this project and is available to provide you with assistance to clarify any questions regarding the scope of work, including interpretation of plans, specifications and requirements, bid preparation and obtaining bonds, lines of credit, insurance and any technical assistance. Please call if you need assistance with: bonding, lines of credit, insurance, obtaining necessary equipment, supplies, materials, or any related services. Balfour Beatty Infrastructure, Inc.is willing to breakdown items into economical feasible packages. Include with your bid the Time required for Performance of your work and any Delivery Schedules so that we can establish a Flexible Timeframe for your work to help encourage and facilitate participation. Balfour Beatty Infrastructure, Inc. Intends to work cooperatively with all qualified firms seeking work on this project. Please provide your contractor's license #, and DIR # with your quote.
Balfour Beatty Infrastructure, Inc.